Home > What's New (If you know of an event that is occurring in your area, please write to Annette Fulford, Website Coordinator, at Annette@CanadianWarBrides.com )

Captured Hearts: New Brunswick's War Brides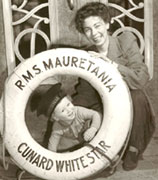 Click for larger image. Helen Grant Hitchon and her son Alan on board the RMS Mauretania, February 5, 1946. Photo courtesy of (Sgt.) K.M. Hermiston, CWAC WWII photographer.

Frame your War Bride History. Click here for more information.

New website launched August 8, 2005!

Click for larger image. Tea with the War Brides at Rideau Hall, Menu.

Click for larger image. Invited guests gather for the official launch of Canada Past's War Bride Commemorative envelope at Rideau Hall, which was followed by a special War Brides' Tea hosted by the Governor General.

Click for full image of Canada Post's War Bride Commemorative Envelope which was officially launched on June 30, 2005 at Rideau Hall.

Click for larger view: Governor General Adrienne Clarkson dances to 40's swing music in the Concert in the Park following the War Brides Tea, June 30, 2005.

Click for larger image. Quilt display at Governor General's War Brides' Tea, June 30, 2005.

Click for larger view. And it still fits! A War Bride display at the Governor General's War Bride Tea on June 30, 2005 included this beautiful wedding dress and its equally lovely owner!

Click for larger view. Melynda Jarratt (right) and George Spears outside of Rideau Hall. Brea Perkins-Weston at left. June 30, 2005.

Click for larger view. Mr. and Mrs. George and Jean Spears at the Governor General's Concert in the Park Series, which followed the War Brides' Tea. June 30, 2005.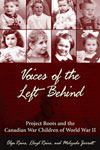 Voices of the Left Behind available through Dundurn Press. Dutch version available through PICA.

Click here to visit Canadian War Brides on Facebook

Peggy Sheffield during her service with the Womens Land Army. WLA members to receive Badge of Recognition. Click for details

Peggy Sheffield with a Womens Land Army crew.
November 11, 2011 - Find out why War Bride child Jackie Scott is one of a group of War Bride children to take Citizenship and Immigration to Federal Court!
November 11, 2011 - Interview with Melynda Jarratt live 5 pm Eastern Standard Time on The Simi Sara Show with guest host Mike Smyth on CKNW radio in Vancouver http://www.cknw.com/
November 10, 2011 - Talk on War Brides at St. Anne's Court, Retirement Home in Fredericton, NB.
November 9, 2011 - Love Stories in a time of War, Melynda Jarratt interview on CBC Saskatchewan, The Morning Edition with Sheila Coles, Click here to listen to the interview.
November 7, 2011 - Lawsuit seeks citizenship for elderly "Lost Canadians" including war bride children Peter Brammah, Marion Vermeersch and Jackie Scott. Click here to read more and to learn about Jackie Scott's case.
November 4, 2011 - NB Author's Tour, Melynda Jarratt speaks at Oromoco Public Library in Oromocto, New Brunswick.
October 19-20, 2011 - NB Author's Tour, Melynda Jarratt speaks at St. Andrew's Public Library in St. Andrew's, New Brunswick and at Grand Manan High School, Grand Manan, NB.
August 12, 2011 - Canadian War Brides and Families, First Reunion in Saskatoon, Saskatchewan, contact jreichardt@netidea.com phone 250 352 7013 or Jean Fells: jean.fells@shaw.ca
May 25, 2011 - Melynda Jarratt speaks at Glasgow Women's Library in Glasgow, Scotland.
March 8, 2011 - On International Women's Day, stand up for the "Lost" Canadian War Bride Children who are being treated so badly by Canada's Department of Citizenship and Immigration. Click here for more...
February 9, 2011 - War Brides Fonds Established at Provincial Archives of New Brunswick. Click here for more.
December 30, 2010 - Queen Elizabeth becomes a great grandmother to a "Canadian" child. Mother Autumn Phillips a Canadian citizen, baby girl has dual Canadian-British nationality. But first generation born abroad Canadian citizens be warned: their children must be born in Canada to obtain citizenship, otherwise, they become Lost Canadians. Click here for more.
November 12, 2010 - Historian Melynda Jarratt and War Bride child Ian Munroe of Halifax, meet with Hon. Keith Ashfield, Minister of National Revenue, in Fredericton, NB to discuss citizenship denial of War Bride children.
November 10, 2010 - If you're in Halifax, go to "Sentimental Journey: Songs of the War Years" at the Halifax Casino.
November 3, 2010 - War Bride Children / Veterans Stripped of Citizenship, Time to Give Lost Canadian Veterans Citizenship, Daily Gleaner.
October 31, 2010 - Justin Trudeau leads call for Citizenship reform in Vancouver Observer: "War Brides and their children were promised citizenship upon arrival, and most of them believed they were. But as the children are discovering today, when they make application for Old Age pension or a passport, they are still being denied."
October 28, 2010 - War bride finally gets her Canadian passport after years of being denied, Vancouver Sun.
October 1-3, 2010 - New Brunswick War Brides Association will hold its 20th and final reunion on October 1-3, 2010 in Fredericton.
May 2010 - The last Saskatchewan War Brides Association reunion took place in Regina. For photos, go to Facebook
April 2010 -The late Eswyn Lyster's much anticipated history of Canada's War Brides "Most Excellent Citizens" is now available from Trafford Publishing.
March 2010 - Book review Edith's War
November 1, 2009 - Lost Canadian saga continues Jackie Scott, daughter of Canadian servicman and British War Bride denied citizenship. Click here to read her story.
July 28, 2009 - Dingwall Library, Dingwall Scotland, Melynda Jarratt will speak about her books War Brides and Captured Hearts.
July 24, 2009 - Glasgow Women's Library, Glasgow, Scotland - Melynda Jarratt will speak about her books War Brides, and Captured Hearts at the Glasgow Women's Library. Click here for more information.
June 11, 2009 - YouTube Video of Mrs. Isobel Boone, Scottish War Bride from Aberdeen, Scotland speaking of her arrival in New Brunswick, Canada in December 1946. Click here to view!
May 25, 2009 - War Brides: The Stories of the Women Who Left Everything Behind to Follow the Men They Loved is now available in Canada from Dundurn Press! Click here for further information.
April 17, 2009 - After many long years of lobbying successive Canadian governments, the Canadian Citzienship Act finally changes to embrace all "Lost Canadian" War Brides and War Bride Children. Regrettably, some exceptions still apply, especially for those born out of wedlock. For further information, go to http://www.LostCanadian.com
Saskatchewan War Brides Association Reunion - May 1-3, 2009, The SWBA is holding its annual reunion in Regina this year. For further information contact the SWBA or click here to download the registration form.
January 30, 2009 - SCAM ALERT!! Have you been contacted by telephone by someone purporting to sell $250 Plaques from this website CanadianWarBrides.com as a fundraiser for veteran's famillies? THIS IS A SCAM! DO NOT GIVE YOUR CREDIT CARD INFORMATION TO THESE PEOPLE. Please alert the RCMP if you receive such an inquiry.
January 24, 2009 - New Book by English War Bride, Winnie Keirstead "From Grief to Grace". Contact us for ordering information.
December 07, 2008 - New Book Review, The Occupied Garden By Kristen den Hartog & Tracy Kasaboski.
November 9, 2008: Presentation by Melynda Jarratt at War Bride Tea with the Lt. Governor of Saskatchewan and visual artist Bev Tosh at the Moose Jaw Art Gallery and Museum. Attendance at this event was made possible with the generous support of the New Brunswick Arts Board, Career Development Arts-By-Invitation Component.
October 25-November 6, 2008: Captured Hearts Book Tour Schedule: Click here for more information.
October 15, 2008 - New book, Captured Hearts: New Brunswick's War Brides, by Melynda Jarratt now available. To purchase copies from Goose Lane, click here. Captured Hearts is a project of the Gregg Centre for the Study of War and Society at the University of New Brunswick in Fredericton, NB and Goose Lane Publishing. December 08, 2008 -New Story! Annie Crooks (Aitken) Pardy, Scottish War Bride
April 29, 2008 - Bill C-37, the Lost Canadian / War Bride legislation, Receives Royal Assent and becomes law.
February 26, 2008 - Rare World War One Canadian War Bride documents that belonged to the late Mrs. Evis Jensen. Click here for more.
February 25, 2008 - War Bride book review "Our Mornings May Never Be " by Joan MacDonald. Click here for more.
February 15, 2008 - Bill C-37 passes Third Reading in the House of Commons. Next stop, the Senate. But calls for an election and threats of dissolving Parliament are seriously jeopardizing the Bill. WE SAY "Put politics aside and pass this Bill for the good of War Brides, their children and all the other Lost Canadians - or forever face our wrath!" Phone and write the Senate and tell them to pass Bill C-37!!
February 13, 2008 - The Standing Committee on Citizenship and Immigration meets at 3:30 p.m. EST for clause by clause consideration of Bill C-37. Click below to link to the Webcast on ParlVu (audio only). Be sure to choose the "English" option to get the simultaneous translation from the French.
February 11, 2008 - Cookbook For British Wives. Click here to view a copy of the original cookbook that was distributed to War Brides during World War Two.
February 11, 2008 - 3:30 - 5:30 pm Ottawa time. Hearings on Bill C-37, Royal Canadian Legion representatives Pierre Allard, Service Bureau Director and Erl Kirsh, Dominion Vice President, to testify. To listen to the proceedings live on line go to the House of Commons PARLVU and click on the CIMM meeting.
February 7, 2008 - Following previous day's meeting and Motion, Bill C-37 finally passes Second Reading in the House and is sent back to the Committee for review.
February 6, 2008 - Hearings in Ottawa on Bill C-37 the proposed Lost Canadians / War Bride citizenship legislation. Don Chapman of the Lost Canadians, War Bride historian Melynda Jarratt and Bill Janzen of the Mennonite Central Committee of Canada to speak. On motion of MP Andrew Telegdi, Vice-Chair, it was agreed, — That, in the opinion of the Committee, the government should refer Bill C-37 to the Standing Committee on Citizenship and Immigration as soon as possible; and That the Chair report this to the House. Hansard not available yet. Click here to read the legislative summary of Bill C-37 in PDF format.
February 29, 2008 - Recognising efforts of Women's Land Army
(Click here to read article in the Daily Gleaner, Fredericton, NB, February 14, 2008)
Female war veterans can apply to have their efforts recognised as applications open today for a new badge of recognition. The badge will acknowledge those surviving members of the Women's Land Army and Women's Timber Corps who worked on the Home Front to provide food and timber for the nation during World War I and II.
Environment Secretary, Hilary Benn said: "It is absolutely right that we at last recognise the selfless efforts these women made to support the nation through the dark days of World War I and II. This badge is a fitting way to pay tribute to their determination, courage and spirit in the face of adversity. I hope that as many eligible women as possible will apply for one."
Badges will be awarded to surviving members as of 6 December 2007. Badges will not be able to be awarded to spouses or families of deceased members except where death has occurred after 6 December 2007.
How to apply
Application forms are now available for anyone who believes that they may be eligible for a badge. Applicants will need to supply date of birth, approximate dates of service in the Women's Land Army or Women's Timber Corps and the location at which they were stationed.
The application form is available on the Defra website.
Requests for application forms can be made by post or telephone to:
Mr Dermot McInerney
Defra
5E Millbank
c/o 17 Smith Square
London
SW1P 3JR
Defra helpline 08459 33 55 77
Click here to go to the DEFRA website.
January 29, 2008: New Story! Beatrice MacIntosh "Memoirs of a Cape Breton War Bride"
January 28, 2008: Bev Tosh's War Brides: Portraits of an Era has finished its stay at Canada's War Museum and is on its way to the Royal BC Museum in Victoria (from May 8 to Sept. 1, 2008). It will be up for Mother's Day and through the busy summer months. From September 18, 2008 to January 4, 2009, the exhibition of paintings will be shown at the Moose Jaw Museum & Art Gallery in Saskatchewan. For further information go to www.WarBrides.com
November 12, 2007 - New War Bride Story! Audrey (Rogers) Robinson Hunter
November 2, 2007 - Decision in Joe Taylor case says MacKenzie King government made mistake in giving War Brides and children citizenship. Read here for more.
September 18-19, 2007 - Canadian gov't challenges War Bride citizenship in Vancouver courtroom. Canada's Immigration Dept. appeals Joe Taylor's 2006 BC Federal Court ruling granting citizenship to War Brides and children in spite of warning by Justice Martineau that the case has ramifications "beyond Joe Taylor."
> Read the official four page summary and / or full decision of Justice Martineau's Sept. 2006 decision on the Federal Court of Canada website.
> Click here to read Chapter 8, "War Bride Children" from Melynda Jarratt's new book War Brides: The stories of the women who left everything behind to follow the men they loved, which examines Joe Taylor's citizenship fight with the Canadian government and its implications for all Canadian War Brides and the children they brought with them to Canada at the end of WWII.
> Click here to read recent articles in the Toronto Sun, Vancouver Sun (Sept 15 and Sept 19) and the Edmonton Sun.
July 12, 2007 - WAR BRIDES, new book by Melynda Jarratt, distributed in Canada through Van Well Publishing, in Britain through Tempus Publications or on line through Amazon.com (4-6 weeks delivery). Click here to read the Introduction to Chapter 8 "Children of War Brides". Click for more information.
June 6, 2007 - New story in "Stories" section about Mari Whiting, English War Bride.
June 5, 2007 - Parliamentary Hearings continue in Ottawa where they case of Joe Taylor and war bride children born out of wedlock is front and center. Also in House of Commons Joe Taylor's David and Goliath struggle for citizenship comes up again in discussion about Bill C-57, a proposed amendment to the Citizenship Act dealing with the admission of foreign strippers to Canada. The only people getting "stripped" of citizenship are the children of Canadian WWII veterans who had the bad luck of being born out of wedlock before their parents could marry!
May 29, 2007 - Hon. Diane Finley, Minister of Citizenship and Immigration, announces proposed amendments to the Citizenship Act which gives citizenship to Lost Canadians and everyone but Joe Taylor and those like him - children of Canadian WWII veterans who were born out of wedlock before their parents were able to marry. Mennonites are also excluded, their foreign church marriages not recognized and therefore any children of these marriages are deemed "out of wedlock." Have you ever heard of anything so ridiculous? Tell Hon. Diane Finley to get into the 21st century - send her an email.
May 29, 2007 - More Parliamentary hearings on War Bride citizenship in Ottawa. Find out what shenanigans the bureaucrats at the Department of Citizenship and Immigration are up to these days. First meeting 1 at 11 am - 1 pm in La Promenade Building - 701 Sparks Street, Ottawa. Second meeting at Centre Block - 237-C at 3:30 pm with the Minister in attendance. Click here for more information.
May 12, 2007 to January 6, 2008 - Bev Tosh's War Brides: Portraits of an Era; An evocative installation of paintings, photos, objects, and commentaries relay the life-changing experiences of some of the 44,000 women who came to Canada at the end of the Second World War as war brides. The contemporary material speaks of love and war, and adventure and hardship in a time of tremendous upheaval. "Official Welcome for War Brides" at 2 pm on May 13th in Ottawa at the Canadian War Museum. For further information click here.
March 26, 2007, Parliamentary Hearings on Citizenship of War Brides in Ottawa to continue. Melynda Jarratt, War Bride historian, will present evidence in support of War Brides and their children who came to Canada under the government sponsored War Bride Transportation scheme between 1942 and 1948. Click here for information on how to view the hearings LIVE over the internet.
March 19, 2007 - Click here to read the official presentation given at the Committee Hearings on March 19 by Erl Kish, Dominion Vice President, Royal Canadian Legion, in support of the citizenship of War Brides and their children. [PDF format]
VERA LYNN's 90th birthday March 20 - Vera Lynn was the "Sweetheart of the Forces" and the songstress who inspired all of Britain during the War - but for the British Overseas War Brides, the magic of her voice and the songs she sings have been a link with home that has never been broken during all the years we have made Canada our home.
Perhaps it is being far from our home land, but we have ties that bind us to this special lady that are like no other. Think of how many times the first notes of "We'll meet again" are heard at a gathering of British War Brides - instantly everyone is on their feet; a circle is made; hands are joined and every voice is raised "We'll meet again; don't know where; don't know when...." It is her Signature Song, but it is ours too. A link that has held for over 60 years.
Now this amazing lady is reaching her 90th birthday. She is well, bright, active and looks like a million dollars. I was fortunate enough to spend an afternoon with her last May.
Can you help spread the word so that we can shower this very special lady with birthday cards, messages and memories?
They should be addressed to Dame Vera's daughter, Virginia - who has promised to deliver them all to her mother on her birthday, March 20. If possible, they should be in the mail by March 1.
This is the address:
Dame Vera Lynn
c/o Virginia Jones
Bramble Cottage
Common Lane
Ditchling, BN6 8TJ
England
This is perhaps our last opportunity to tell this much loved lady what she has meant to us all these years.
'till we meet again.
Than you and God bless,
Jean Spear
War Bride from the ESWIC Club of Ottawa
February 19-26, 2007 - Citizenship and Immigration Committee Schedules Special Hearings to get Answers on Stripping of Canadian Citizenships. The hearings will take place in Ottawa on February 19 and 26, March 19 and 26 from 11:00 am to 1:30 pm. The Minister of Citizenship and Immigration and her Deputy Minister will appear on Feb. 19th; witnesses who have lost their citizenship will give testimony on Feb. 26th and March 19th; and professionals on this issue will appear on March 26th. Citizenship can be stripped for reasons such as; your great grandparents were married abroad in a church wedding but did not have a civil wedding; you were born to Canadians outside the country; you spent your life in Canada but failed to register your birth before you turned 24; you were born out of wedlock; you were born to Canadian soldiers stationed abroad etc. These are a few examples of the archaic 1947 and 1977 Citizenship Acts, parts of which have been judged unconstitutional. Both Acts predate the Canadian Charter of Rights and Freedoms that was enacted in 1982. For further information, go to www.Telegdi.org
January 4, 2007 - New Book on Canadian War Brides. Melynda Jarratt is writing a new book on Canadian War Brides which will be published in England this summer by Tempus Publishing. Deadline for submissions is February 15, 2007. If you are a British War Bride or the son and daughter of a British War Bride, you can contribute your story by contacting Melynda Jarratt TOLL FREE at 1-877-886-2836, 506-450-4567 or by email at melynda@canadianwarbrides.com For more details, click here.
November 10, 2006 - Opening of Museum Exhibition The War Brides of New Brunswick at the York Sunbury Museum in Fredericton, New Brunswick. Curated by Melynda Jarratt. Click here to view gallery of images from the opening.
November 6 - 9, 2006 - VIA Rail War Bride train.
September 28-29, 2006 - New Brunswick War Brides Reunion, Fredericton
September 1, 2006 - He's a Canadian Citizen! War Bride son Joe Taylor wins case against Citizenship and Immigration Canada. Read for more.
August 18-20, 2006 - Nova Scotia War Brides Reunion at the Lord Nelson Hotel and Pier 21.
July 1, 2006 - One Way Passage, Bev Tosh's War Bride exhibition opens at Pier 21.
June 13, 2006 - Ontario War Brides Honoured at Queen's Park. Those interested in attending should contact Ines Pirslin at Ontario Citizenship and Immigration, by telephone at 416-314-7780, or by e-mail at: ines.pirslin@mci.gov.on.ca ...click here for more information.
May 31, 2006 - Joe Taylor in Federal Court: Landmark case will decide citizenship for 65,000 War Brides and Children who came to Canada at the end of World War Two... click here for more.
March 12, 2006 - New War Brides Events Calendar! Check here for events and activities in the Year of the War Bride 2006. If you know of any events or activities occurring in your town, city or province, please send the details (including date, time, location, description and contacts) to info@CanadianWarBrides.com
March 8, 2006 - "Canadian War Brides" International Women's Day, Winnipeg Regional Women's Committee of the Public Service Alliance of Canada. Contact: Naomi Dashton, The Public Service Alliance of Canada, 460-175 Hargrave Street, Winnipeg, MB R3C 3R8 ndashton@mts.net

March 4, 2006 - War Brides Exhibit Opens at Diefenbaker Centre, Saskatoon, Saskatchewan One Way Passage by artist Bev Tosh. Click for more....
March 2, 2006 - Press Room launched containing *nearly* every article written about War Brides in Canada in the last three years. If you know of an article that was written about War Brides and it does not appear on this site, please type it up and send it to us in digital format at info@CanadianWarBrides.com. We cannot type up the article. Thanks to Annette Fulford for her assistance in entering the newspaper articles on line.
February 27, 2006 - Annette Fulford joins the CanadianWarBrides.com web team. Annette will handle all the press coverage in the new Press Room section of the website. Annette is from British Columbia and her grandmother Grace Clark was a World War One War Bride. Read about Annette's grandmother Grace Clark in the Stories section of this website.
February 9, 2006 - Manitoba officially declares 2006 Year of the War Bride, becoming the second province in Canada to do so.
February 9, 2006 - Click to read press release
A unique event at Pier 21 in Halifax, Nova Scotia to mark the 60th anniversary of the arrival of the RMS Mauretania II as the first dedicated all War Bride sailing under the auspices of the Canadian Wives Bureau. Guest speakers to include Her Honour, Myra Freeman Lt. Governor of Nova Scotia, Marguerite Turner of the NS War Brides Association / Halifax Dartmouth War Brides Association, Zoe Boone, VP New Brunswick War Brides Association, and Eswyn Lyster, War Bride and author from Qualicum Beach, British Columbia. For more information contact Melynda Jarratt event coordinator. All are welcome!! Click to read press release
This event is sponsored by the Department of Veterans Affairs as part of the Year of the Veteran 2005.
December 15, 2005 - New Brunswick Legislature becomes the first in Canada to officially declare 2006 Year of the War Bride. Click here for more information about this cross Canada initiative. Read the December 16, 2005 article in the Telegraph Journal.
November 11 , 2005 - Year of the War Bride 1946-2006.
NB will be the first province to introduce a private members motion to officially recognize 2006 as the Year of the War Bride. Click here for more information and to read an article in the New Brunswick Telegraph Journal. Between January and December 1946, the overwhelming majority of 65,000 Canadian War Brides and their children were brought to this country in a massive immigrant wave organized and paid for by the Canadian government. We believe it is time to mark this historic achievement in Canada's immigration history by recognizing 2006 as the Year of the War Bride. If you are interested, please contact us by email and let's see what we can do!
September 3, 2005 - Read about War Bride son Joe Taylor's heartbreaking struggle with Citizenship and Immigration Canada to obtain his citizenship.
August 19, 2005 - Joe Taylor's Rebuttal to CIC Statement on Passports and Citizenship for War Brides and their Children
August 16, 2005 - Finally! War Bride Passenger Lists available on line!
August 10, 2005 - Billy Mitchon, where are you? A fabulous collection of War Bride photographs taken on board the RMS Mauretania on February 5, 1946 by (Sgt.) K.M. Hermiston, a Canadian Women's Army Corp photographer, have come our way. One of them includes this wonderful photograph which states on the back "Billy Mitchon Belleville Bound". Does anybody know little Billy Mitchon and his mother? Write to melynda@canadianwarbrides.com (Billy Hitchon was FOUND in September 2005)
August 8, 2005 - A NEW look for the CanadianWarBrides.com website! After many months and lots of planning the new website is finally available to the public! Many thanks are due to Fredericton, New Brunswick-based web designer Mila Jones for her wonderful graphic design and to the technical support of Stephen Butters, of Smartypants.com which hosts CanadianWarBrides.com as a community service.
June 30, 2005: War Brides Tea and Presentation of Canada Post Commemorative Envelope at the Governor General's Residence, Rideau Hall, Ottawa A reception and Tea with the War Brides was held at Rideau Hall on June 30, 2005 with the Governor General Adrienne Clarkson and John Ralston-Saul, whose mother just happens to be a War Bride! During the reception, a framed Commemorative Envelope honouring the contribution of the War Brides to Canadian society was presented to Mrs. Jean Spears, of the ESWIC Club in Ottawa. Mrs. Spears' passport photo and documents appear on the envelope, as well as those of Olive Cochrane, Mabel Mann and Red Cross Escort Officer, Leah Halsall.
June 24, 2005: Citizenship and Immigration: Canadian War Brides
The Canadian Department of Citizenship and Immigration (CIC) has provided www.CanadianWarBrides.com with a three page document which explains how to get your passport or citizenship papers. You can download the document in Microsoft Word or PDF format or view the text of the document on this website by clicking here.
May 5, 2005: Citizenship of War Brides and Children Confirmed!
[May 5, 2005- Ottawa, Ontario] - The Registrar of Citizenship for the Government of Canada confirmed in Ottawa yesterday that there is no question: War Brides and their children are Canadian citizens.
Ms. Patricia Birkett met with Melynda Jarratt, a Fredericton, New Brunswick based historian who raised the issue of War Bride's citizenship status two weeks ago when she appeared before the House of Commons Citizenship and Immigration Committee. Ms. Jarratt told the Committee that the children of War Brides who had been brought to this country at the end of World War Two were being confronted with a bureaucratic nightmare when they applied for passports and that many had even been told they were not citizens. War Brides were also expressing anger that they too, had been forced to apply for citizenship in the past when they applied for passports to travel overseas. In her testimony, Ms. Jarratt explained that the issue was especially problematic for the children of War Brides who were born in the UK and Europe as they are now fast approaching retirement age and are making plans for their old Old Age Pension. Others may be applying for a passport for the first time in their lives.
Ms. Jarratt flew to Ottawa Wednesday where she met with Ms. Birkett, Stephen Heckbert, Communications Director for Citizenship and Immigration Minister Joe Volpe, and John Delacourt, Legislative Assistant to the Minister. The issue has received considerable media attention because of the 60th anniversary celebrations of VE-Day and the impending release of a War Bride Commemorative envelope by Canada Post.
Jarratt said she's never received so much correspondence on her website www.CanadianWarBrides.com since it was launched five years ago. "It's been somewhat overwhelming," she said, "but I am glad that we were able to make such headway on this issue. It shows that things can move quickly on Parliament Hill and in Citizenship and Immigration if it's important enough to Canadians, and this issue certainly was."
The War Brides citizenship issue has received all-party support from the House of Commons Citizenship and Immigration Committee, chaired by Kitchener-Waterloo Member of Parliament Andrew Telegdi. "There was never any question in the Committee's mind that War Brides and the children they brought with them to Canada at the end of WWII were citizens," said Telegdi. "That commitment was made in WWII and it will be honoured."
News of the development was greeted with optimism by Mrs. Doris Lloyd, a British War Bride from Plaster Rock, New Brunswick. Doris and her daughter, Ann, came to Canada on the Ile de France on November 28, 1944. After living in Canada for twenty years - and voting in elections – Mrs. Lloyd made an application for a passport in 1964 and was shocked to find out that she was not a Canadian citizen. Her daughter Ann, as well, always assumed she was a citizen: she was educated in Canada, worked, paid taxes, voted and even held a Canadian passport in 1967. But recent attempts to obtain a passport ended in frustration.
Mrs. Lloyd said she's extremely happy to hear that this issue has finally been settled once and for all. "I'm over the moon" she said from her home in Plaster Rock where she has lived for 61 years. "It's great news for war brides all across Canada, really and truly. I called my daughter and she is just delighted to have it confirmed at the highest levels that War Brides and their Children are Canadian citizens."
Ms. Jarratt cautioned that this development does not remove the requirement for paperwork, however: to prevent identity theft and to ensure that only those entitled receive a certificate of citizenship, applicants for a citizenship card will still have to provide supporting documents. Jarratt said Ms. Birkett promised that applications annotated "War Bride" on the envelope or on the application itself will receive special consideration. She also advised that her department will put a War Bride link on its website and that its call centre staff will be briefed.
Ms. Birkett told Jarratt that a major factor in the delay in issuing certificates has been the ballooning demand for citizenship certificates, which rose markedly after 911. In the last year, demand has shot up 60% and while new staff has been hired and trained at the Sydney, Nova Scotia processing centre, they are still experiencing delays.
June 30- July 3, 2005 - Fire on the Moon, Barrie, Ontario
An original Musical Play set in the Netherlands during September and October of 1944 , Fire on the Moon will open on June 30th and run until July 3rd at the new Park Place Theatre in Molson Park, in Barrie, Ontario. There will be 7 performances including 2 matinees. For more information about Fire on the Moon or to inquire about ticket prices and reservations, please call 722-9087 or email onstagepg@rogers.com

May 8, 2005 - Canada Post War Bride Commemorative Envelope goes on sale
Canada Post commemorative envelope (see envelope to the right) in honour of the Canadian War Brides in Ottawa on May 8, 2005.
April 7, 2005 - Let's Pier into the Past
St. Paul's High School , Ottawa, Ontario
"Let's Pier into the Past" is a musical production that follows a group of students who visit the Pier 21 museum in Halifax, Nova Scotia, to learn more about their past. Tickets ($6.00) are on sale now at St. Elizabeth Ann Seton School for the musical "Let's Pier into the Past". It will be performed at St. Paul's High School (Baseline & Greenbank Rd.) on Thursday, April 7th at 1pm and 7pm. For more information or to set up an interview please contact Joy Forbes joy_forbes@occdsb.on.ca
April 2, 2005 - BBC Radio 4
Pilgrim Mothers on BBC Radio 4. Edi Stark recalls the exodus of British women who married Canadian servicemen during the war. Tens of thousands crossed the Atlantic to start a new life in a very different country.
June 6, 2004 - 60th Anniversary of D-Day
Click here to read about Rev. (Major) R.M. Hickey, who landed on the shores of Normandy with the North Shore Regiment (New Brunswick).
June 1, 2004 - Project Roots Book Voices of the Left Behind
8 chapters including "Children of War Brides." (Update August 2005, this book is now available through Dundurn Press. For information on how to order this book from Dundurn Press, click here ).
January 8, 2004 - Queen Elizabeth II officially names Queen Mary II
Canadian war brides are well represented on board Queen Mary II in its Maritime Quest Museum exhibition, called the largest floating museum in the world. Click here to see a PDF of the exhibit . Note: Melynda Jarratt of www.canadianwarbrides.com helped develop the exhibit with Open Agency of London, England.
November 10, 2003 - Overseas War Brides Reunion 2004
The thirtieth reunion of the Overseas War Brides will take place at the Holiday Inn, Peterboroug, Ontario on September 10th to 12th 2004. It will be the last one to encompass Ontario and parts of Quebec. With an age span of 75 to 90+ years, travelling has become more difficult and it was decided that next year's reunion would be the final one. However, it will not be a sad occasion as we fully intend to
EXIT.....LAUGHING !
Any lady wishing information on the reunion, may contact: Yvonne Leahy 705 745 1027

June 26, 2003 - BBC looking for Scottish War Brides
THIS REQUEST HAS EXPIRED
Luisa Stucchi is a researcher at BBC Scotland working on a television programme about emigration from Scotland. She is interested in speaking to Scottish War Brides about their experiences coming to Canada. [Update, November 15, 2005: Please note Luisa has finished this project and is no longer seeking War Brides to interview for the programme but she sends her best wishes and thanks to all those who have written to her].
February 14, 2003 - The War Brides: From Romance to Reality
Finally, you can purchase the History Television documentary film, "The War Brides: From Romance to Reality" at the History Television Boutique !
Please note, www.canadianwarbrides.com provides this information as a Public Service Only and receives no financial compensation whatsoever from its mention on this website.
November 4, 2002 - "English Rose" A One Woman Play

For those warbrides living in the Greater Toronto area, you may be interested in attending a performance of my one-woman play called "English Rose - The Story of
a Warbride". The play is on at the Assembly Hall at Kipling and Lakeshore in Etobicoke:

Friday November 8 at 8:00pm
Saturday November 9, at 2:00 pm
Saturday November 9 at 8:00 pm
Sunday November 10 at 2:00 pm

Box Office: 416 622 8731
Tickets: Regular: $20
Seniors: $15
Students: $10

The show is perfromed by Robin Clipsham, who plays Rose, as well as Elsie Everleigh, a performer from the Old Time Music Halls who kept people's spirits up during the war years and who will get you, the audience joining in some of the old songs and jokes. Lois Cavey, as "Mavis" accompanies her on the piano. If you want more information, feel free to reply to me at my email address!

Peter Scott by email at scott.snailworks@sympatico.ca

Click for larger view. A Dutch War Bride wedding picture. Are you looking for a War Bride? Join Debbie Beavis' War Bride Listserv and place your query there.
October 25, 2002- Looking for Dutch Warbrides

I am currently writing a book about the Dutch warbrides who married Canadian servicemen after World War Two. I am still looking for a few more Dutch women who would like to share their stories in the book. There is no writing or filling out questionnaires involved. Instead I will perform interviews in person or by phone. If you are, or know, a woman who might be interested in sharing her story, I would love to hear from you at oorlogsbruid@yahoo.ca

I look forward to hearing from you!

Martine Zoer

October 22, 2002 - Professional War Bride Research Services by Debbie Beavis
Looking for documentation of your mother's or grandmother's journey to Canada on the War Bride Ships? Trying to do it yourself is like looking for a needle in the haystack. For a reasonable fee, professional passenger ships lists researcher Debbie Beavis of the UK will find that elusive piece of information for you. Contact Debbie at http://www.passengerlists.co.uk
Please note, www.canadianwarbrides.com provides this information as a Public Service Only and receives no financial compensation whatsoever from its mention on this website.
June 5, 2001 - The War Brides of World War Two
An undergraduate essay contributed by Theresa Reynolds
Download a Microsoft Word or PDF version of Theresa's essay from here
Winnie's Window: June 22-24, 2001
At the Royal Ontario Museum , Toronto
A romance developed between Winnie Harris, a cockney girl and Canadian soldier Cliff Field, with a foxtrot during an air raid. Their marriage transported Winnie, and her growing family, to Manitoba where she had to adjust to a new life. Watch Winnie handle the hardships of being a stranger in a new land. True romance and adventure awaits all in this heart-warming Kneebone-Christie production.
History Television World Premiere
War Brides: From Romance to Reality
Wednesday, February 14, 9 p.m. ET - War Brides: From Romance to Reality- This World Premiere explores the stories of women who married Canadian servicemen during the Second World War, and came to live in Canada. The result was an unusual social phenomenon that followed the Second World War: the migration of 50,000 British and European women and their 20,000 children to join their Canadian husbands in this country. Read more about From Romance to Reality on this Website or you can also check out the History Television Website at http://www.historytelevision.com
Cunard To Launch Queen Mary II
On November 6, 2000, Cunard Lines announced that it will launch Queen Mary II in 2003. As of November 17, 2000, 1600 of the available 2600 passenger spaces have already been booked. So if you're interested in reliving the War Bride experience, or just want to read about the new Queen Mary II, go to www.cunard.com !
Melynda Jarratt, co-developer of www.CanadianWarBrides.com, will be working with Cunard to develop a War Bride's exhibit on board the ship. If you are a War Bride who travelled to Canada or the United States on the original Queen Mary in 1946, and you have any memories, photographs or archival documents (such as your berthing tickets or menus) that you would like to put in the permanent exhibit on board the Queen Mary II, please contact Melynda .
Media Coverage
We have received a great deal of coverage and terrific feedback about the launching of canadianwarbrides.com. Here are a list of KNOWN media coverage of our new site. If you know of other newspapers, radio stations, or magazines where our Website was featured, please contact us !
September 28, 2000
BBC Radio (John Florance) -Leicestershire, England
Interview with Olga Rains about launch of Website on Remembrance Day
October 31, 2000
BBC Radio - (Jim Bowen) Lancashire, England
Interview with Olga Rains about launch of Website on Remembrance Day
November 8, 2000
BBC Radio Derby - (John Holmes) England
Interview with Olga Rains about launch of Website on Remembrance Day
November 8, 2000
ANP Netherlands - (International Dutch Press)
Jeroen Veenstra translated our Press Release and interviewed Olga Rains. The story has been in many Dutch papers across Holland, including Haarlem.
November 8, 2000
The Northern Light - Bathurst, New Brunswick
War Brides Site Launched - article about new website
November 9, 2000
The Times, London, England
Press Release appeared in the Times
November 9, 2000
CBC Radio - Saint John, New Brunswick
Main Street interview with Melynda Jarratt about new website
November 10, 2000
CBC Radio - Halifax, Nova Scotia
Information Morning - Interview with Erez Segal about new website
November 10, 2000
CBC Radio - Fredericton, New Brunswick
Information Morning Interview with War Bride Johan Dewitt about Website
November 10, 2000
Moncton Times Transcript, Moncton, New Brunswick
War Brides Website Launched - article about new website
November 10, 2000
Fredericton Daily Gleaner, Fredericton, New Brunswick
Love and War - Article about new website - by Michael Staples
November 11, 2000
CBC National Radio
Remembrance Day Broadcast of New Brunswick Interviews across Canada
November 13, 2000
CJCA 930 AM, Report on Radio, Edmonton Alberta
Interview with Melynda Jarratt about new website - Joanne Byfield Host
November 15, 2000
The Hague, Holland
Interview with Olga Rains - Heleen Den Beer, journalist