Home > What's New > February 9, 2006 60th Anniversary
Editors: Click to download in Word format | Click for high res images
Event to Celebrate Arrival of First War Bride Ship Sixty Years Ago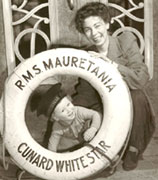 Click for larger image. The late Helen Grant Hitchon and her son Alan on board the RMS Mauretania II, on February 5, 1946, as the ship prepares to depart Liverpool for Halifax's Pier 21. Helen's family will be attending the event in Halifax on February 9, 2006. Photo by Karen L. Hermiston, CWAC Photographer.

Click here to read Eswyn Lyster's story about her trip on the Mauretania II. Eswyn Lyster and her husband Terry on their wedding day. Eswyn Lyster came to Canada with her son Paul on the RMS Mauretania on February 9, 1946. Eswyn will be a guest speaker at the event in Halifax on February 9, 2006.
(Halifax , January 30, 2006) – Canada 's War Brides will be honoured at a special event on Thursday February 9 th at 1 p.m. to commemorate the 60 th anniversary of the arrival of the first War Bride ship at Halifax 's Pier 21.

Between 1942 and 1948, a total of 43,454 War Brides and 20,997 children were brought to Canada from Britain and Europe , but it was in 1946 that the overwhelming majority landed at Pier 21. The arrival of the Mauretania II on February 9, 1946 , carrying 943 servicemen's dependents on board, marked the beginning of an unprecedented immigrant wave that saw more than 45,000 War Brides and children transported to Canada in the space of one short year.

Melynda Jarratt, an historian who specializes in the War Brides experience, says that the War Brides had an enormous influence in shaping the Canada we know today. "Nearly one in thirty Canadians can claim a War Bride in their family tree and that number alone speaks to their impact on our society," says Jarratt, who runs the website www.CanadianWarBrides.com .
"But more than just their numbers, the War Brides brought with them the cultural values of their home countries, reinforcing the ties that bind Canada to Britain and Europe while at the same time cementing the friendships that were made in the six years that Canadian soldiers spent overseas during the war."
The event will be held from 1- 2:30 pm at Kenneth C. Rowe Heritage Hall, Pier 21 in Halifax . Guest speakers include Her Honour Myra Freeman, the Lt. Governor of Nova Scotia , representatives of the Nova Scotia War Brides Association, the Halifax-Dartmouth Area War Brides Association, and the New Brunswick War Brides Association. Other guests include Eswyn Lyster, a British Columbia based War Bride who arrived in Canada on board the Mauretania on February 9, 1946, Ontario based Alan Hitchon, who as a toddler came to Canada on the same sailing with his mother, War Bride Helen Hitchon, Manitoba MLA Bonnie Korzeniowski, Norma Dube, ADM, NB Executive Council Office, George Aucoin, President of the Royal Canadian Legion Nova Scotia / Nunavut Command, Mr. Robert Mercer, ADM, Public Programs and Communications Branch, Department of Veterans Affairs and Robbie Shaw, Chair, Pier 21 Society .
Award-winning singer, guitarist, songwriter and historian Dan McKinnon will play " Kith n' Kin " a tribute to Canadian War Brides. The 10 piece Stadacona Band will perform music from the 1940s and a War Bride themed art display by children from the Grade 5 class of Inglis Street School will be on exhibition in the Hall.
Background Information:
Although War Brides had been coming to Canada since 1942, their numbers amounted to no more than a trickle while the Second World War was in full swing. Up to August 1944, less than 2000 wives and children had made their way to Canada and the reasons are fairly obvious: the scarcity of trans-Atlantic shipping and the real peril of travelling on U-Boat infested waters were good enough reasons to prevent War Brides from coming to Canada . However, once the war was over and the troops had all been repatriated to Canada , the trickle soon turned to a flood: at the height of the War Bride transport, in July and August 1946, more than 6000 dependents were arriving at Pier 21 each month. More than 90% were British, with lesser numbers coming from nearly 20 countries, including Holland , Belgium , France and even Germany and Italy .
Called "Operation Daddy" by the press, the transportation of War Brides was organized and paid for by the Canadian government which established the Canadian Wives Bureau in 1944 to bring servicemen's wives and children to this country. The Wives Bureau employed nearly 100 service personnel at its offices in London England , Paris France , Brussels Belgium , and The Hague in Holland .
Travelling on refitted ocean liners such as the Queen Mary and Queen Elizabeth, each war bride and child required an attention to detail that was estimated to require five times as much care as was necessary for male troops. And no wonder! A seasick mother and a baby in diapers could not be expected to sail in the same manner as men who had just spent the last six years at war.
Volunteer Escort Officers (EO's) with the Canadian Red Cross took care of the War Brides every need, from hostels in London where they gathered before sailing, and on board ship from Britain and Europe . Once in Canada , the Red Cross accompanied their charges on trains dubbed "War Bride specials", helping them as they made their way to every city, town and whistle-stop across Canada .
This event is organized with the support of Pier 21, the Nova Scotia War Brides Association, the Halifax-Dartmouth Area War Brides Association and www.CanadianWarBrides.com .

Editors:

High resolution archival images are available for downloading at
http://www.canadianwarbrides.com/images-downloadable.asp

For further information contact:

Melynda Jarratt, Event Coordinator
Tel: 506-450-4567 (w) 506-455-3568 (h)
Email at Melynda@CanadianWarBrides.cm
Web: http://www.CanadianWarBrides.com

Marguerite Turner, President
Halifax Dartmouth Area War Brides Association
902-454-0133
Eswyn Lyster, War Bride, Author, Webmaster
Tel: 250-752-9723
Email: warbride@shaw.ca
Web: http://home.istar.ca/~lyster/warbride/

Maria McGowan , Pier 21, Communications
Tel. 902-425-2330
Email: mmcgowan@pier21.ca
Web: www.pier21.ca