Home > Books > War Brides: The stories of the women who left everything behind to follow the men they loved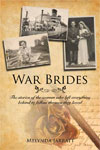 War Brides: The Stories of the women who left everything behind to follow the men they loved by Melynda Jarratt is now available in Canada
Re-released in Canada! May 25, 2009 From Dundurn Press, Toronto, Ontario, Canada
This book is available at your local bookseller or on line at Dundurn.com, Amazon.ca, or Amazon.com
War Brides : The Stories of the Women Who Left Everything Behind to Follow the Men They Loved
by Melynda Jarratt
With a Preface by Hon. T.J. Burke, Attorney General and Minister of Justice, Province of New Brunswick
Table of contents, fully indexed, 5 maps, 16 pages of photographs, tables and recommended reading.
Paperback: 288 pages
Publisher: Dundurn Press (May 25 2009)
Language: English
ISBN-10: 1554883865
ISBN-13: 978-1554883868
Product Dimensions: 23.1 x 15.7 x 1.8 cm
Shipping Weight: 499 g
What the reviewers are saying:
Your Family Tree (UK)
"The first comprehensive history of its kind. Told with enthusiasm and warmth, it will be of interest to anyone who enjoys reading of real lives in new contexts...All this is prefaced by an intelligent and informative introduction to the history of the Canadian War Brides...."
'Overpaid, over-sexed and over here' was the verdict of many British civilians on American and Canadian soldiers serving in Britain during the Second World War.
Yet for thousands of young women, the influx of handsome military men meant flirting – and falling in love. The result was over 48,000 marriages to Canadian soldiers alone, and a mass emigration of British War Brides to northern America and across the globe in the 1940s.
A new book "War Brides: The stories of the women who left everything behind to follow the men they loved" by Historian Melynda Jarratt has painstakingly captured the incredible stories of young women – some say brave, some say foolish – who left their families and homes to move to a country thousands of miles away with a man they barely knew. Yet the ensuing decades brought happiness to many, and surviving women share their tales of love, family and starting again.
For some brides, the outcome was a very different story, and the darker side of the crossings reveals astonishing accounts of infidelity, domestic violence, poverty, alcoholism and divorce. This incredible new history draws on original archival documents, personal correspondence, and key first-hand accounts to tell the amazing story of the War Brides in their own words – and shows the love, passion, tragedy and spirit of adventure that thousands of British women experienced in a turbulent time.
The personal stories of more than 50 War Brides from across Canada appear in this new history. Fully indexed, it contains 16 pages of photographs, an extensive bibliography of primary and secondary resources, recommended reading, maps, and statistical information about War Bride emigration to Canada.
"War Brides: The stories of the women who left everything behind to follow the men they loved" was originally printed in Britain in 2007 and has been re-printed in Canada by Dundurn Press.


War Brides : The Stories of the Women Who Left Everything Behind to Follow the Men They Loved
by Melynda Jarratt
With a Preface by Hon. T.J. Burke, Attorney General and Minister of Justice, Province of New Brunswick
Table of contents, fully indexed, 5 maps, 16 pages of photographs, tables and recommended reading.
Paperback: 288 pages
Publisher: Dundurn Press (May 25 2009)
Language: English
ISBN-10: 1554883865
ISBN-13: 978-1554883868
Product Dimensions: 23.1 x 15.7 x 1.8 cm
Shipping Weight: 499 g
This book is available at your local bookseller or on line at Dundurn.com, Amazon.ca, or Amazon.com