Home > Books > Our Mornings May Never Be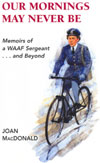 Our Mornings May Never Be by Joan MacDonald
OUR MORNINGS MAY NEVER BE
Memoirs by a WAAF Sergeant...and Beyond
By Joan MacDonald
ISBN#1-894263-73-1
ISBN#9781894263733
General Store Publishing
When nineteen-year-old Joan signed up for the Women's Auxiliary Air Force in 1941, little did she know she would meet her future husband at the air force base and become a war bride at the end of the war.
Holme on Spalding Moor, England, was the base for the Royal Air Force's 76 Squadron. Here, young men from a variety of countries were "fighting together against a great evil." One of these young fliers was "Mac" MacDonald, a Canadian. Once Joan and Mac began dating, the war took on a whole new, more personal, dimension for Joan. She anxiously awaited his return as he flew one operation after another, miraculously escaping harm.
Joan had plenty to do as a non-commissioned officer in charge in the Teleprinter Section. Life was not all work and worry, however. Joan was issued a bicycle--"301"--on which she rode around the camp and across the moors. She and the other WAAFs had some good times together, some of them becoming close friends.
Finally the war ended, and Joan and Mac settled in Canada. All went well until Mac contracted a rare disease that left him suddenly and totally blind. Mac overcame many challenges and eventually could even cross-country ski again.
Joan and Mac MacDonald exemplify the 76 Squadron motto, "Resolute." This is an uplifting story of romance and courage during a world war and afterwards.