Home > Books > Canada's War Grooms and the Girls who Stole their Hearts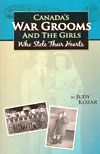 War Grooms: A new book by Judy Kozar, containing over 40 stories of Canada's War Grooms and the women they fell in love with.
New Release! July 2007 From General Store Publishing in Canada
By Judy Kozar
ISBN #1897113692
ISBN #9781897113691
Boy meets girl. It's a story that never grows old. Yet, occasionally, it gets a new twist, as in Canada's War Grooms and the Girls Who Stole Their Hearts.
During World War II, thousands of servicemen came to Canada to train and, naturally, there were just as many local girls eager to meet them. The British Commonwealth Air Training Plan was the conduit for many of these young men, who would often find themselves stationed on remote bases across the country. Needless to say, the wide open spaces, harsh winters, and vast distances were a far cry from what they were used to "back home." Yet loneliness and foreignness soon gave way to love for many of these men -- for Canada, as well as that "special girl."
Through interviews and pictures, author Judy Kozar has gathered more than 40 of these wartime romances in a collection that will make you believe love truly does conquer all.