Home > War Bride Stories > Bernadette (nee Morris) Surgeson

Click for larger view. Bea (Morris) Surgeson in a war time photo.

Click for larger view. Norman Surgeson in a war time photo.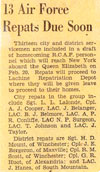 Click for larger view. Newspaper article announcing arrival of veterans on the Queen Elizabeth.
I was 18 years old when I met my future husband. He was 20 and serving in the Royal Canadian Airforce. Norman had done what so many young men did before they left for overseas—he had promised his sister that he would visit some of her husband's English relatives and they happened to be friends of our family.
These mutual friends had done nothing but rave about 'this nice young man' since the first leave he had spent with them some months before. I was so tired of hearing them sing his praises that I decided that I wouldn't like him. I forgot all about that when I first met him. He was a little over 6 feet tall, (not a typical height in those days in Britain ), weighing about 175 lbs. and very smart in his RCAF uniform, buttons, belt buckle and boots all shining. His face was shining too as he had a fresh complexion. With nice grey eyes and a cleft in his chin—he was very handsome.
The first time he spoke it was a question about our family dog, a beautiful Irish Red Setter. In contrast to the Northern England accent that was common in our part of the world, his accent sounded like something out of the American movies that we loved so much. We had got used to the presence of Canadians and Americans in our midst. They brought a different outlook, much less conventional—they chewed gum, they boogie-woogied, they said 'Yes, Ma'am, No Ma'am' and they were a breath of fresh air with their New World ways. With the young British men having been gone from the social scene for years, the girls loved having all this vibrant manhood around.
The timing for this visit from Norman and friends was terrible as I had to leave to go to work on the afternoon shift. We arranged that we would all meet again at my home when I finished work at 10:00 p.m. That had to be the longest afternoon of my young life. I couldn't wait to see this stranger again; talking about Saskatchewan and horses, sun and snow, not typical Lancashire topics.
Well, it would seem that the chemistry was working both ways because Norman told me later that he knew that afternoon that he had just met his future wife. Little did we realize that by the time we would be able to marry Norman would be 24 and I would be 22.

I didn't live in the County where Norman was stationed so we were only able to meet when he was on leave. We spent our time together going to movies or to dances. Almost every church (except for the fundamentalists) held dances in the church hall. Also there were commercial dance halls, very select, and not bearing the reputation that they seem to have today. There was often a small live dance orchestra which played all the latest tunes, as well as the old favourites—Old Time Dancing, Waltzes, Valeeta, Lancers and Cotillions, etc..
Teenagers were usually good dancers--the boys knew all the steps and whenever I would dance with any of them my feet were so well behaved; they could even make me (not a natural dancer) look pretty good. Dancing with Norman , however, was different. Ginger Rogers realized that she had two left feet as she stepped all over Norman 's toes. It was impossible to talk while we danced because it was long distance due to the difference in our heights. My nose came just about to the button on his breast pocket. With a little practice, though, we were able to get a rhythm going and keep our feet out of each other's way.
One movie date stands out in my mind. I had been in a dilemma as to footwear. I had the choice of two decent pairs of shoes—a sensible (ugly) pair of Oxfords and a pair of high heels, beautiful but flimsy. Since I just had to make an impression, the choice was obvious—especially when in my dreams I'm at least 5' tall. After the movie we went out into the Northern English night, raining cats and dogs, and proceeded to walk home. By the time we had gone a couple of blocks my shoes were wet through. We were talking and laughing and I thought that I could bluff my way through, however, to my horror, I realized that the sole of my right shoe was beginning to peel away from the upper. My foot was freezing and my stocking was becoming wet up to my knees.

This altered state required me to walk in a way to accommodate the flapping sole of my shoe. Instead of 'left, right; left, right; I was doing something like, left-schoop, lift right foot, schlop, splash; left-schoop, lift right foot, schlop, splash; all the while raising my right foot higher and higher as the sole peeled further down the shoe. I thought that I was carrying this out very well and proceeded as though all was normal.
My Prince Charming was very polite and pretended not to notice that instead of walking beside him, his companion was doing some strange kind of dance step. After inquiring if anything was wrong, (accompanied by much laughter), he cut the offending sole loose. (I thought that that might be the last time I saw him—he may not want to get involved with someone who did such odd things). Obviously, he wasn't so easily put off.
I wish that I had kept track of how many hours we spent together whenever Norman had a leave. If we compacted them, it would probably add up to something like 200 hours (total) at the outside. We wouldn't have known each other very well had it not been for letters.
From the time that we became an item, so to speak, in 1943 sometime, until I arrived in Canada we wrote to each other daily—sometimes even more often. That was our only way to communicate and have any kind of closeness. The few hours we spent together were very precious and the good-byes extremely hard to take, but we had no choice.
To make a long story short, due to Norman's changing postings, tracking down Commanding Officers, who were also changing postings, government red tape, the end of the war and repatriation to Canada from Europe without leave in England in order to get married, I didn't arrive on the Canadian scene until January of 1948. Almost two years of writing many letters.
I left Prestwick on board a North Star aircraft and the journey was something like being on a magic carpet for me. I will never forget the sight as we circled Montreal at night prior to landing. We had lived for so long with blackouts (war) and dim-outs (power conservation), that the panorama below us was beyond belief. There, in the middle of total blackness was a giant jewel box. There were reds, greens, yellows, all colours. The cars that were travelling along the roads made glittering ribbons of light going in all directions.
A fellow passenger on the plane was really coming home to Canada – she had been stranded in England at the outbreak of the war and was being met at the airport by her son who had spent the war years in Canada . After the formalities at immigration the four of us proceeded to the railway station. Their destination, Hamilton , and ours Cornwall , Ontario. And that is how I came to spend my first night in Canada locked in the ladies room at the station.
The station master was just about to close up the station for the night and he explained that there would be a train going West early in the morning, so if we liked we could spend the night locked in the station. It seemed to make more sense than going to a hotel for just a few hours so we accepted his kind offer.
Then came the punch line. Morality (for want of a better word) was somewhat tighter than it is today, and the station master was going to have no hanky-panky in his station. So notwithstanding that one couple was a middle-aged woman and her son and the other two people were engaged to be married—to each other—he ruled that the women would be locked in the ladies room and the men could sleep on benches in the station. He would personally lock up the station and leave a note for the man who would be on duty in the morning making him aware that we had permission to be there.
I arrived in January and we were married in April. My status in Canada when I arrived was as a visitor to Canada for the purpose of being married to a Canadian citizen. The ruling was that I was allowed six months and if not married by then would have to return to England . By the time we got through the formalities it was Lent and Catholics did not marry in Lent at that time—I was Catholic. So, I was halfway through my grace period when we got married.
I still love England , but the only time I have ever been homesick was one time when my husband and I were visiting there for six weeks. We were travelling to Scotland on the train (in the rain) when it dawned on me that it was July 1 st . and I was just overwhelmed by a need to go home to Canada . My poor husband wondered what was going on with me.
I am a widow now (since 1991) like so many of us. I still live in the home that Norman and I built in 1956 in the early years of our marriage. Norman established a business here which now belongs to our elder son, Bruce is married to Suzanne, a French-Canadian and they have two children, Christine and Phillip. Eric, our younger son is married to Janet. Janet is an American of Italian background and their daughters are Stefanie and Louisa.
I look back on those war years with sentimentality and thankfulness that even though they held a lot of tragedy they also gave me a good husband and a rich life here in Canada.
This story was added to the War Brides website on April 2, 2005.