Welcome to CanadianWarBrides.com!

Click here to visit Canadian War Brides on Facebook for up to date info on everything about War Brides!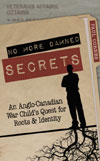 Click here to see Lost Canadian Jackie Scott, War Bride daughter, on CBC's The National

Click here to read Jackie Scott's story.

Madeline Fitzgerald as a member of the Womens Land Army. Madeline's story is in "Captured Hearts" New Brunswick's War Brides"
Welcome to the Canadian War Brides website. I hope you enjoy visiting this site and learning about the wonderful War Brides of World War Two!
This is an independent website created by War Bride historian Melynda Jarratt for information purposes only. It does NOT represent any War Brides organization nor does it receive any funding.
WAR BRIDE ASSOCIATIONS
I am frequently asked about contacts in provincial war bride associations. The sad fact is that today, the vast majority of these associations have disbanded. I suggest you reach out to local Royal Canadian Legions or seniors homes for living relatives of your war bride. Obituaries on line frequently list all the close family members and that's another good place to start looking for individual War Brides.
WAR BRIDE PASSSENGER LISTS
I am also asked for War Bride passenger lists: I recommend FindMyPast.com for persons seeking their War Bride's passenger list.
RESEARCHERS
I also receive many inquiries from young students researching Heritage Fair projects, to university students doing more in depth research on the War Bride story.
WAR CHILDREN, LOST CANADIANS
In addition, I help adopted children, family members, war children and Lost Canadians seeking their long lost Canadian War Bride mothers and or their veteran fathers from the Second World War. Please feel free to contact me at melynda@canadianwarbrides.com and I'll try my best to help you! I do suggest however, that these days Ancestry DNA may be your best avenue to successfully locating your War Bride relatives.
More news, articles and information about Canadian War Brides on my FACEBOOK site.