Welcome to CanadianWarBrides.com!

Click here to visit Canadian War Brides on Facebook for up to date info on everything about War Brides!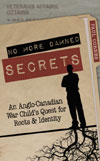 Click here to see Lost Canadian Jackie Scott, War Bride daughter, on CBC's The National

Click here to read Jackie Scott's story.

Madeline Fitzgerald as a member of the Womens Land Army. Madeline's story is in "Captured Hearts" New Brunswick's War Brides"
Joe Taylor on the day he received his citizenship, January 24, 2008.
Welcome to the Canadian War Brides website. I hope you enjoy visiting this site and learning about the wonderful War Brides of World War Two!
This is an independent website created by War Bride historian Melynda Jarratt for information purposes only. It does NOT represent any War Brides organization nor does it receive any funding.
I am frequently asked about contacts in provincial war bride associations and about how to access passenger lists. I also receive many inquiries from young students researching Heritage Fair projects, to university students doing more in depth research on the War Bride story. I also help adopted children, family members and war children seeking their long lost Canadian War Bride mothers and or their veteran fathers from the Second World War. Please feel free to contact me at melynda@canadianwarbrides.com and I'll try my best to help you!
May 19-21, 2017 : Canadian War Brides and Families Reunion in Ottawa, Ontario. To see photos and for more information visit their website at CanadianWarBridesandFamilies.ca
More news, articles and information about Canadian War Brides on my FACEBOOK site.
War Brides: The stories of the women who left everything behind to follow the men they loved
is now available in Canada at
Dundurn Press, at your local bookseller or on line at Amazon.ca and Amazon.com


Captured Hearts: New Brunswick's War Brides
Available from
GooseLane Editions


200 years of British Newspapers are available on line from the British Newspaper Archive
Canadian and US War Bride Passsenger Lists are available on line from FindMyPast.com




Click here for larger image. The late Helen (Grant) Hitchon and her son Alan on board the RMS Mauretania, February 5, 1946 as it departed from Liverpool.
Photo courtesy of the late (Sgt.) K.M. Hermiston, CWAC Photographer, WWII